As promised on Wednesday, I'll be showing you all a little more in-depth what's coming in the next patch. But prior to that, I'd much rather talk about life. I'm tempted to place another disclaimer, but you get the picture. SAGA patch info is at the bottom of the post.
Busy Week
This week has been a very busy one around the office. I keep a whiteboard above my desk that I use to remind myself of the most important things that I need to get done any given day of the week.
A random sampling from today's board -
Write on the Dev Blog

Meet with Entropy to discuss the Ice Drake quest

Clear backlog in rankings database

Get the manual updated

Help QA start a full build test

SAGA Credits

Finalize content for next patch

File taxes!
Ballistas and Contests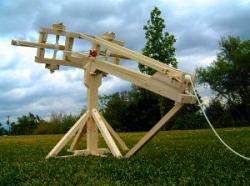 This week saw the start of a fabulous new promotion though Xfire. When Slava told me they were giving away a ballista as a prize, I gave him the 'what's so great about ballistas?' look. Then he showed me the Lithobolos. He meant a
real
ballista. Now everyone in the office wants one. Perhaps we can mount one on top of the office's roof to defend ourselves. (Funny context-giving memory #317: When I first started at SAGA, Slava mentioned plans to invest in a full-scale mini-gun for the roof. It would shoot blanks, of course.)
Patch Delay
You will all have noticed by now that the patch was delayed. Why the patch push-back? The decision to hold back the patch was two-fold. Firstly, the patch is not a trivial thing. It has a lot of changes that require an extra level of testing. We could have pushed up a patch this week, but we decided to hold it until after the Xfire promotion (second reason) had run its course, so that we didn't interfere with people trying to rack up hours, should something go wrong.
New Newsletter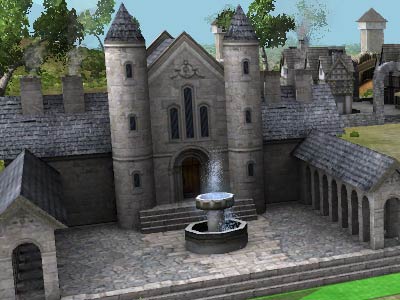 Earlier this week, we sent out the latest SAGA newsletter. I always get a laugh at the zany nature of our writers' senses of humor (one in particular), and ability to create clever titles for articles. 'The Lion and the Unicode' literally made me laugh so hard I had to show Slava before continuing.
Excel sheet from Hell
This week, we finally took the time to re-do the card manual. In a previous life, I did a lot of graphic and layout work, and I normally quite enjoy helping out with projects like that. The card manual, on the other hand, is a demon.
The manuals themselves are prepared in Adobe InDesign. However, InDesign isn't optimal for managing thousands of cells of data, and updating by hand would be more trouble than it's worth. We use Excel as an intermediary to automatically arrange all of the card data needed (one of the neat things that InDesign can do is pull data directly from an Excel file).
After we finished updating the Excel file for new cards like the Rhyax this morning, I noticed that the Excel file is 4.6 Megs! That's pretty big for an Excel file. Mostly, the size is due to the fact that it requires several cells to correctly parse any given stat and organize them into something legible. Fortunately, it does its job well, and gives us the info needed for the manual with relative ease.
Preliminary Patch Notes for 1.46.0 (tentative version number):
These are the currently planned changes, but this list is subject to change.
The upcoming patch will launch the second week of March.



System Changes:



Preliminary Unicode support has been added (Extended Latin and Cyrillic character sets).

Particle effects have been added to more buildings including: flames for War and Magic, fountains for the Light university, smoke for Light and Machines, an eerie glow for Magic buildings, and fell flames for the Undead.

Building particles can now be toggled on and off.

The Guild screen has been updated to display more information and allow for easier communication (click to Private Message, Mail, etc).

Guild Masters can now pass leadership to another guild member.

Mail attachments now show icons for any resources or units received.

The Guides (Manuals) have been updated to reflect new cards and previous system changes, as well as being trimmed down by several pages.

Spells will now sell for gold in the 'Sell' tab of the Market.

Fixed a bug where bound troops could become unbound.

Fixed a bug where buildings could become double-stacked.



Quest Changes:



The three Tutorial quests are receiving an update with expanded tactics.

We're adding Obsidian Warlord, a new level 28 Heroic quest.

We're adding Frostbite, a level 20 Once-only quest. This quest has the unique reward of an Ice Drake (formerly a promotional unit).

We're adding Blasted Lands, a new quest.

The map for Thermahill Pass will receive some alterations.

The usual variety of fixes and tweaks.



Unit and Spell Changes:



Human Heavy Infantry
AR - 19
Damage - 8-18
Speed - 6

Human Cleric
Speed - 7
Attack Speed - 0.75
Special - "Healing Aura - Friendly troops in target radius (20m) heal 40-60 hit point per cleric in unit. Cooldown: 90 seconds."

Dwarven Mechanists
AR - 22
DR - 27
Hit Points - 450

Dwarven Crossbowmen
Special - "Dwarven Chant - Friendly units in target radius (30m) gain +2 morale and heal 35-45 hitpoints per Crossbowman. Cooldown: 120 seconds."

Dark Elf Shamen
Special - "Spirit Communion - Units in target radius (15m) heal 35-65 hit points per Shaman. Cooldown: 90 seconds."

Elven Warrior
Special - "Hardiness (passive) - +80% DR against ranged attacks."

Elven Druid
"Refreshing Aura - Friendly troops in target radius (20m) heal 55-95 hit points and +2 morale per druid in unit. Cooldown: 90 seconds."

Forsaken Warrior
Hit Points - 325
Special - "Regeneration - Each Forsaken Warrior gains 65 - 80 hit points. Cooldown: 60 seconds."

Diabolist
Range - 35

Orc Boar Riders
Special - "The Hunt - Nearby friendly units (20m) gain +5% AR per Boar Rider for 30 seconds. Cooldown: 90 seconds."

Orc Dog Soldier
Special - "Healing Chant - Friendly troops in target radius (20m) heal 35-45 hit points and gain +2% DR per Dog Soldier for 30 seconds. Cooldown: 120 seconds."

There are a few things I'm specifically leaving out of the patch notes, so as not to ruin any surprises. And, as a disclaimer, the above notes are all subject to change.